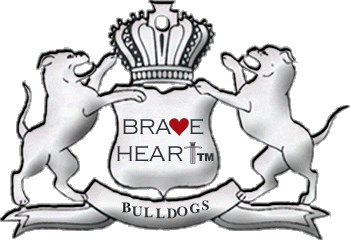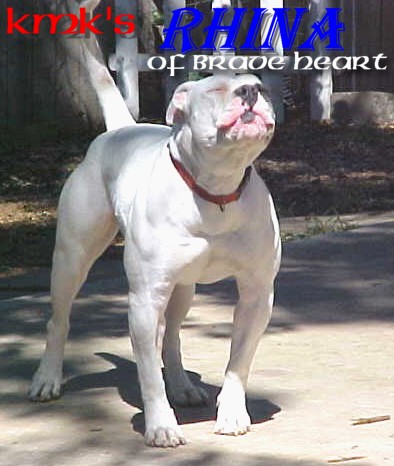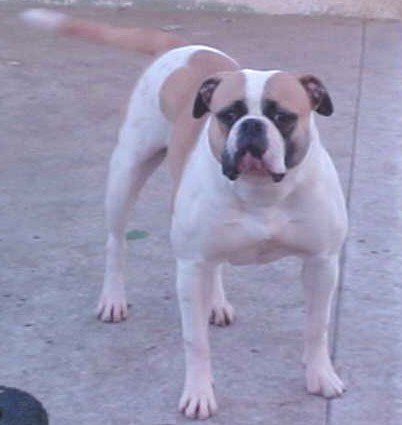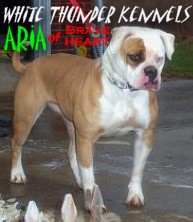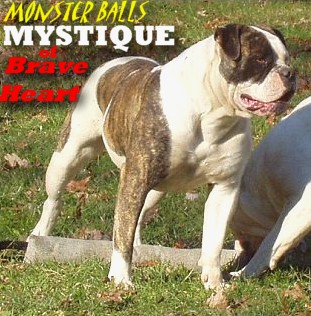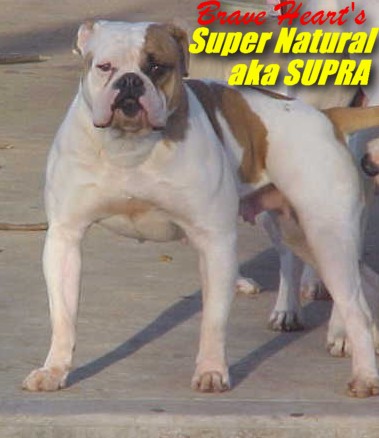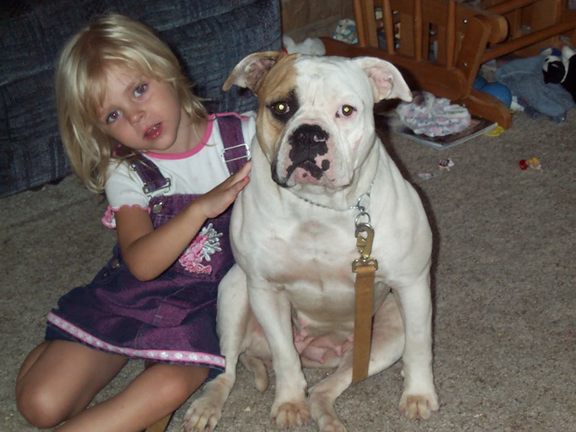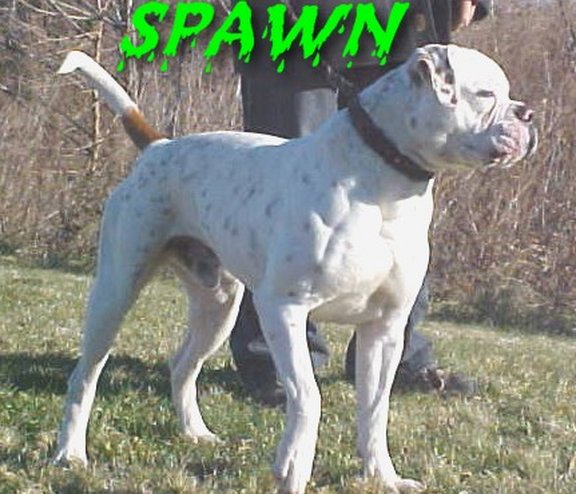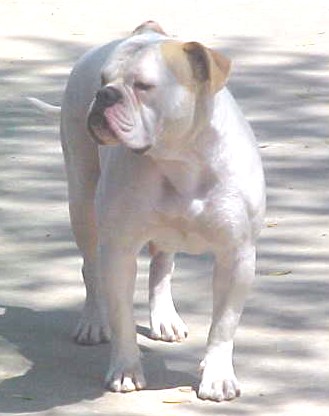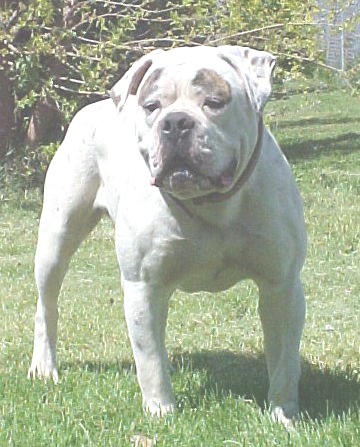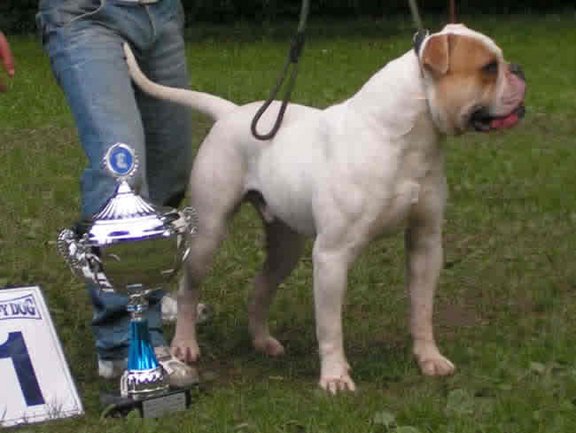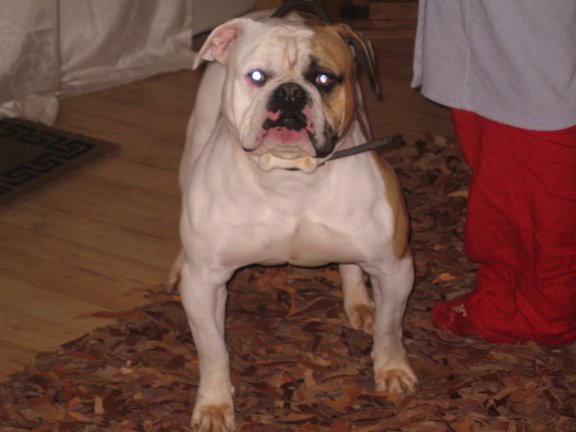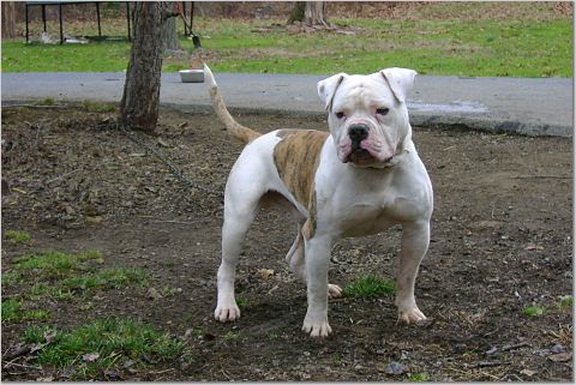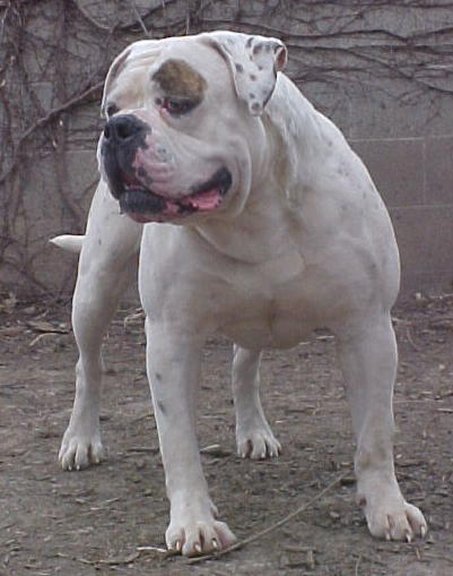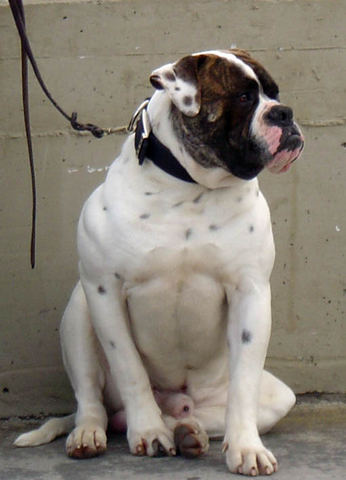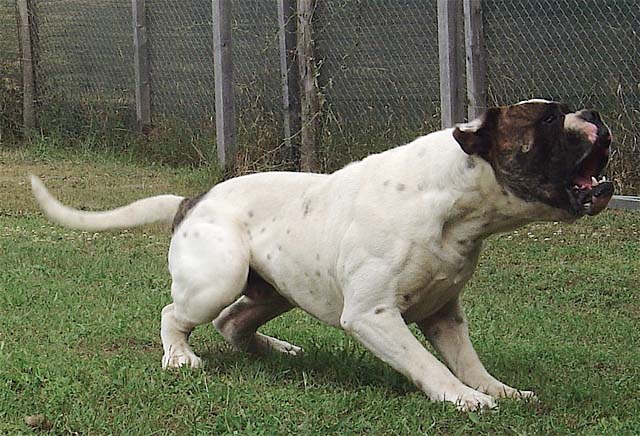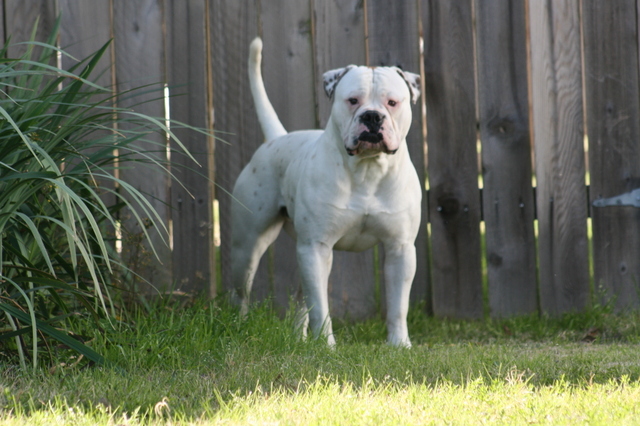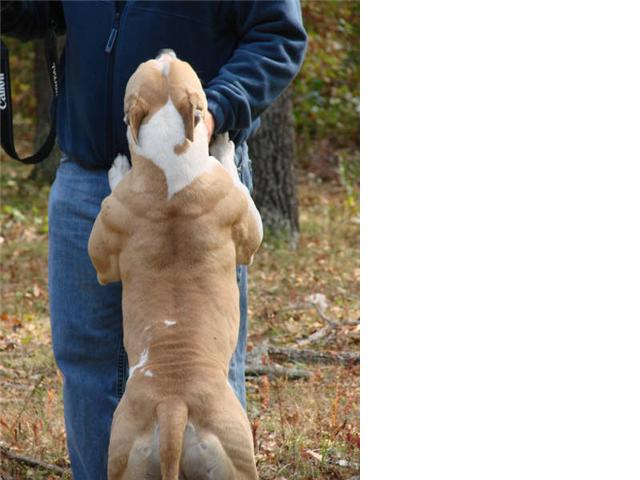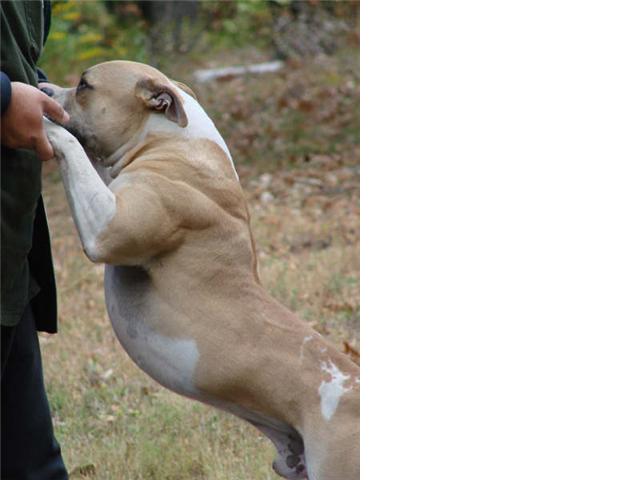 BB Sampson of BH = BH Blue Bullistic x BH TB2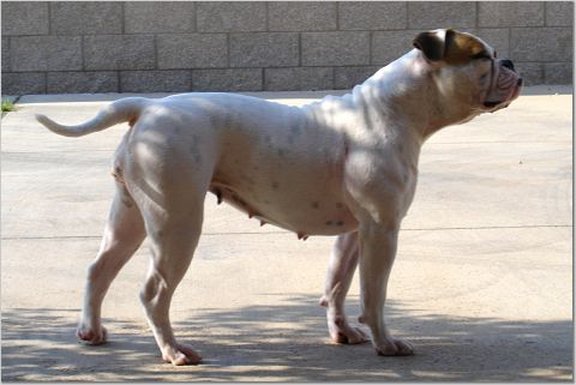 Gabby Gal 4 generations Brave Heart Bred. BH Go Bullistic x BH Bounce N Betty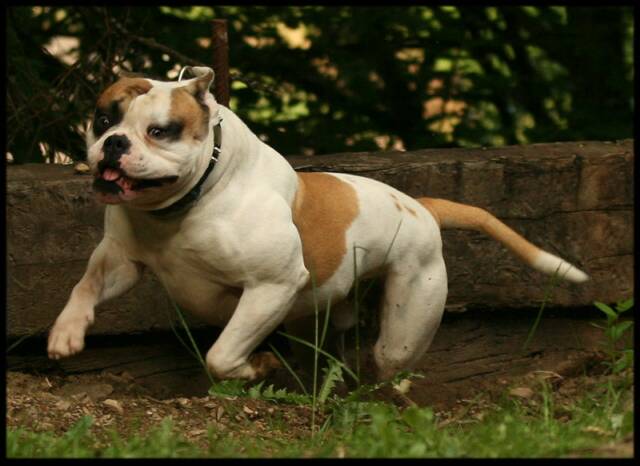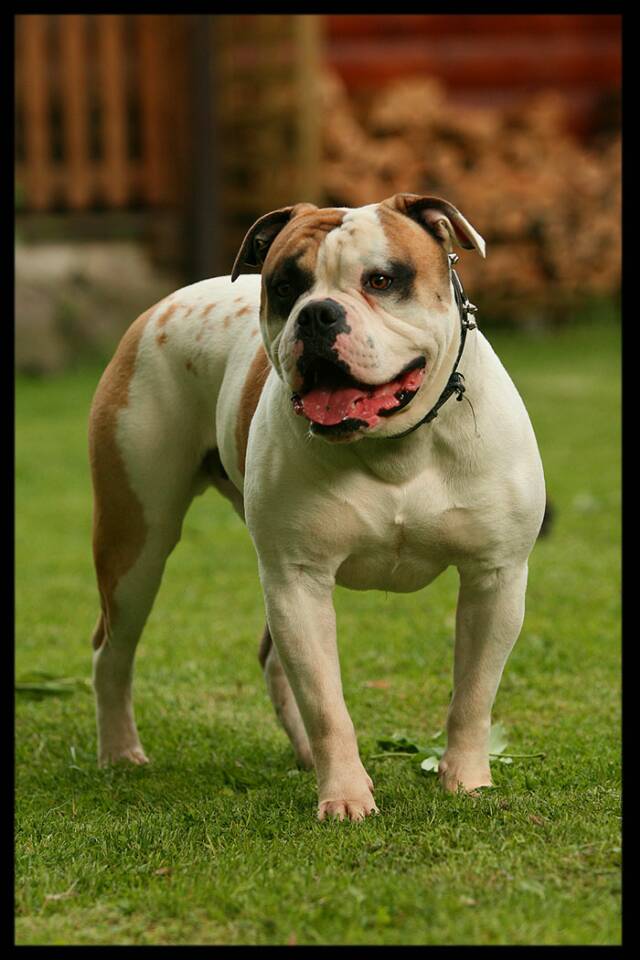 John D Johnson American Bulldogs

100% Johnson

Something Special

Fat Boy Slim

Mufassa

King Mufassa

KMK Mufassa

Dailey Tug O War

Dailey American Bulldog

Venn''s

Cold Country

Manstoppers

MegaBull's

megabull's fifty

sixty of mega bull's

best american bulldogs

performance american bulldogs

american bulldogs forsale

4 sale american bulldog puppies

working bulldogs

working american bulldogs

#1 american bulldog

champion american bulldog

psa titled american bulldogs

muscle, bully, big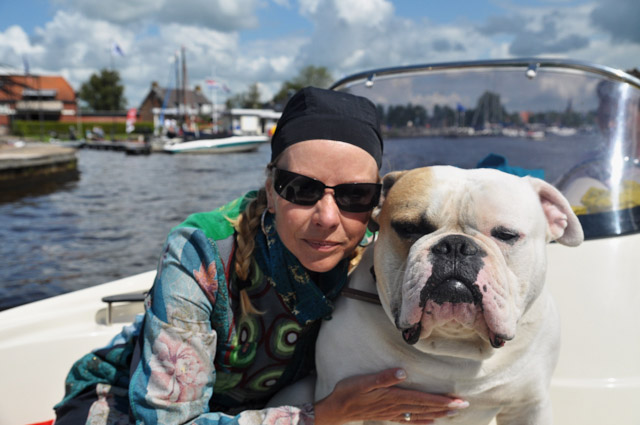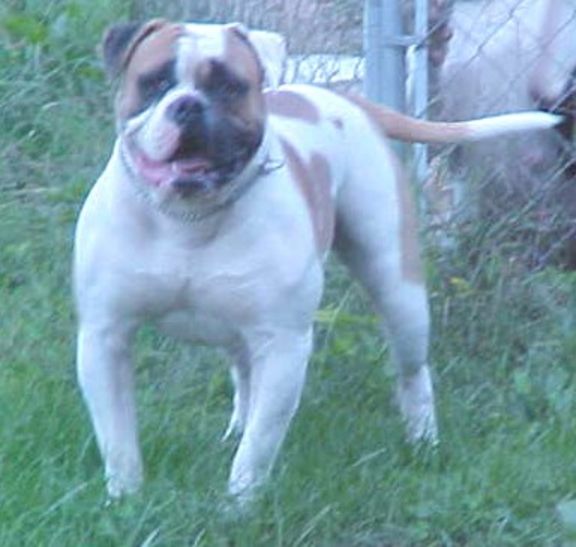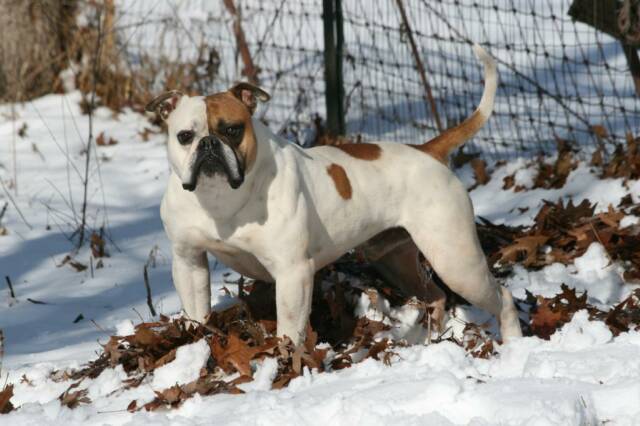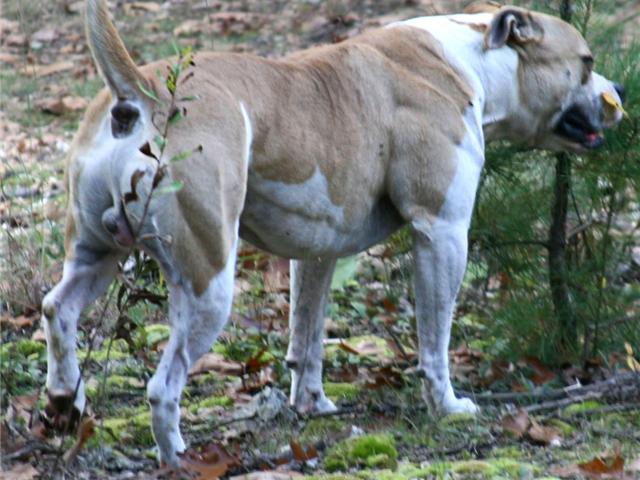 King Goliath

Go Bullistic X Betty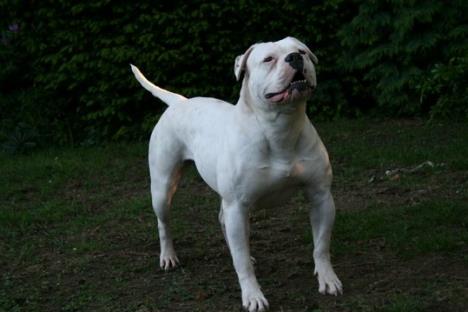 Boo is in the UK

She is a fine female we produced From Groucho x Braudzilla

She is Darczilla's Littermate sister.

This gal has unbelievable Structure and Movement and so far a prove high quality Brood.  She is  in the UK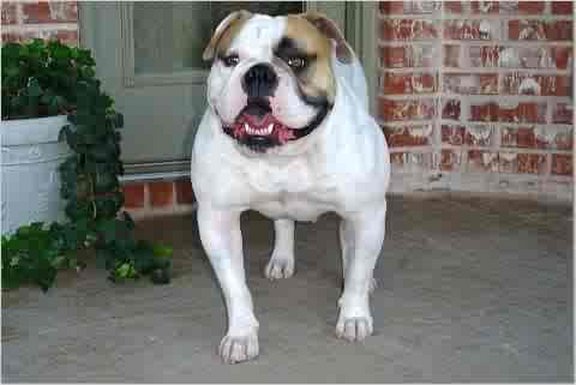 McGabba's

Gabba Gal

of Brave Heart

PH.34.36

= BH Go Bullistic x

BH Bounce N Betty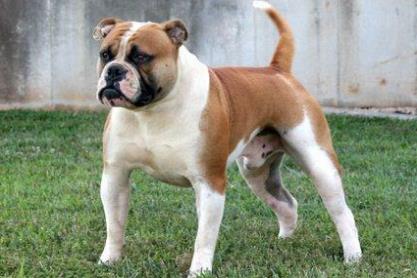 Jr CH. GO Bullzerk of Brave Heart

Gr Ch  CC BMJ of BH x Brave Heart's Tom Boy 2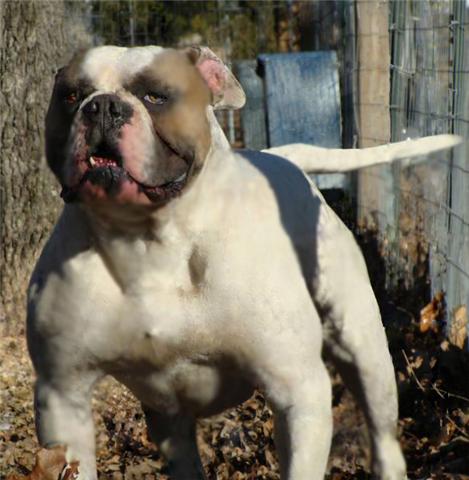 Brave Heart's

Blue Bullistic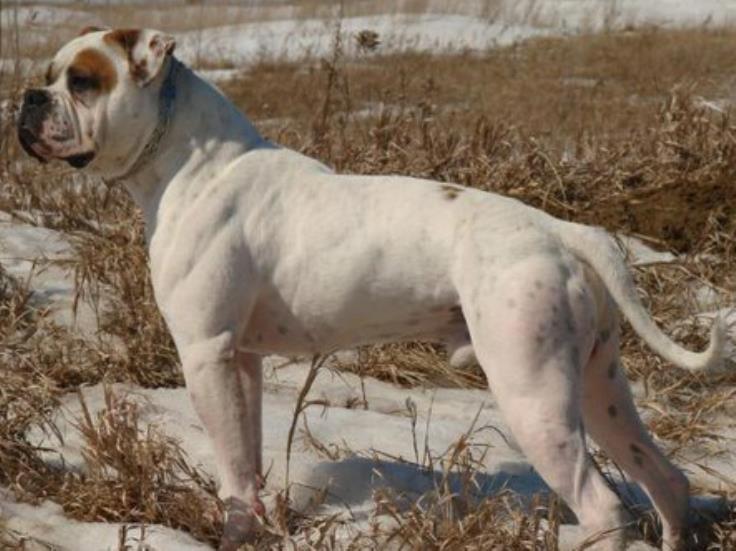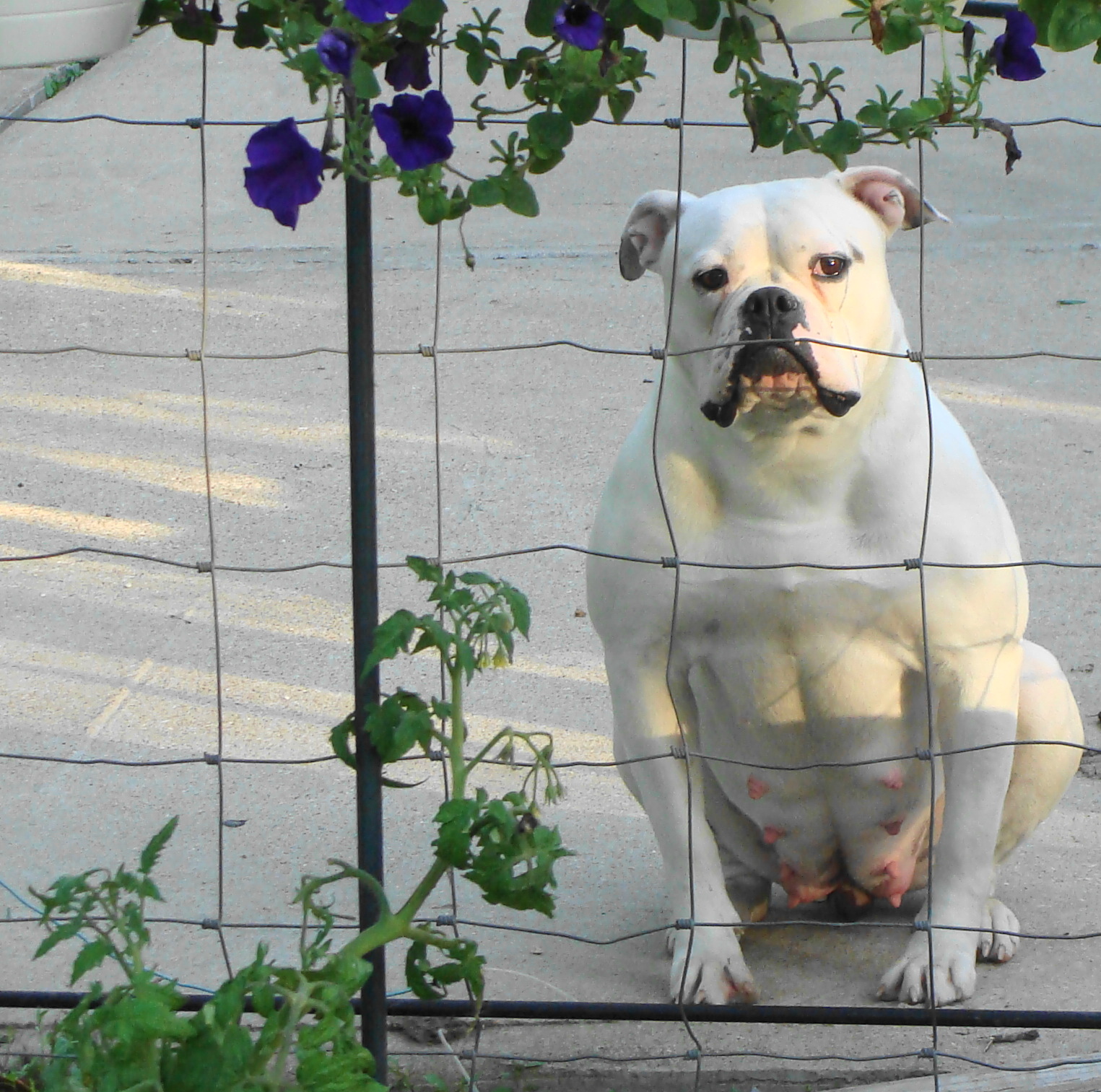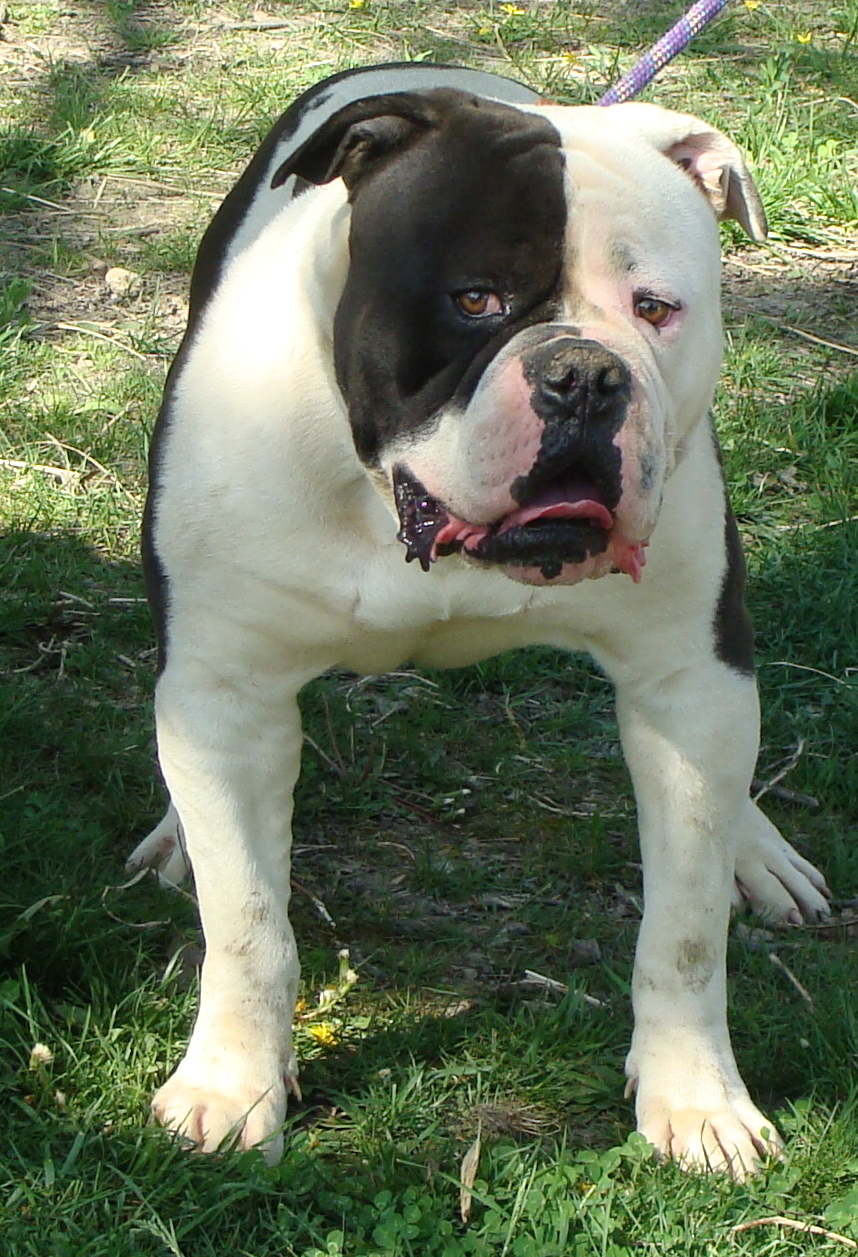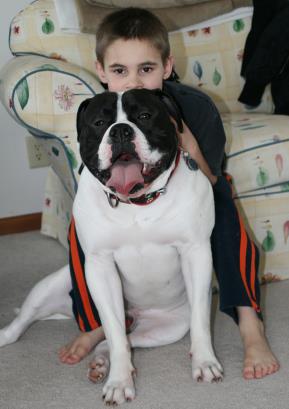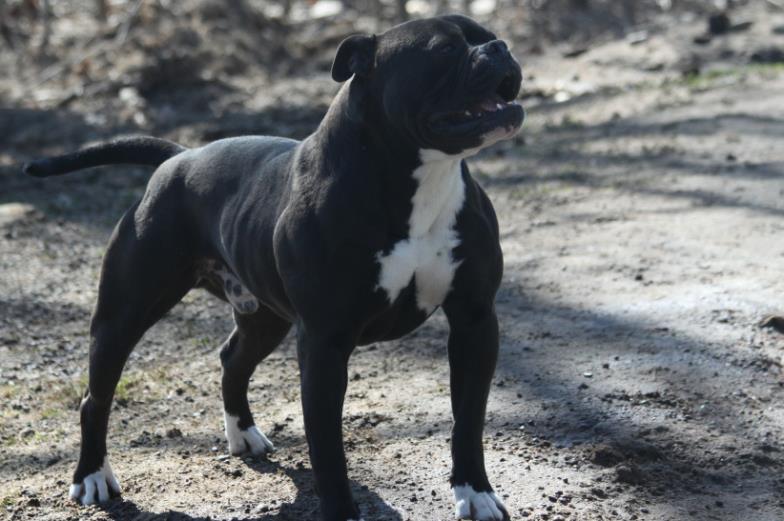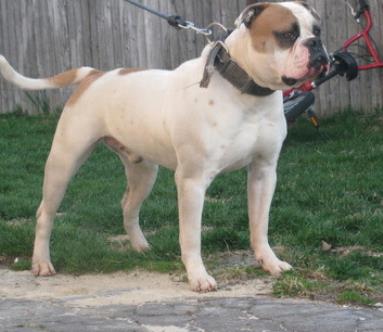 Huggy of Brave Heart

PH .48.40,

Dual Gr CH BMJ son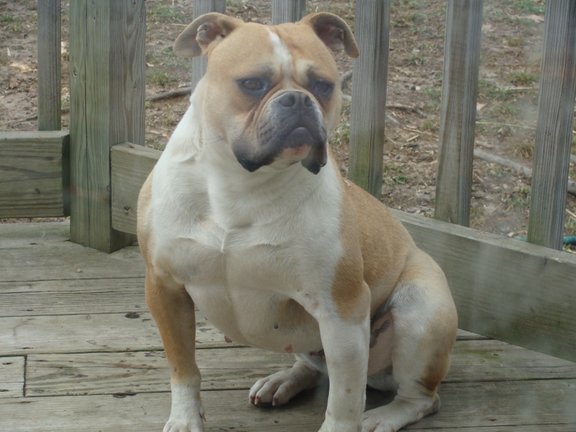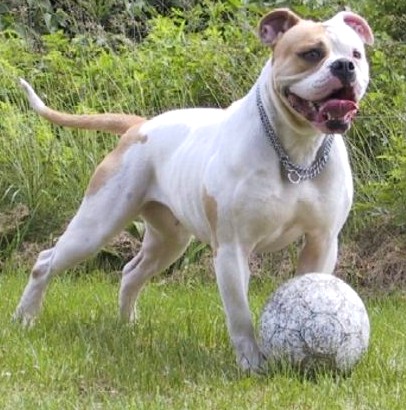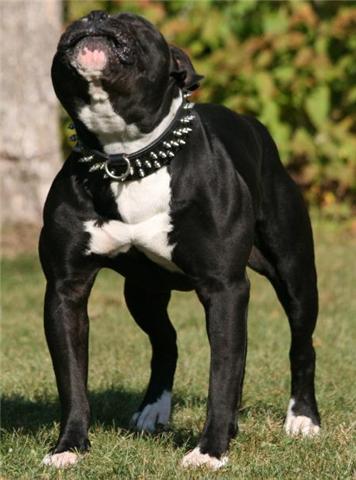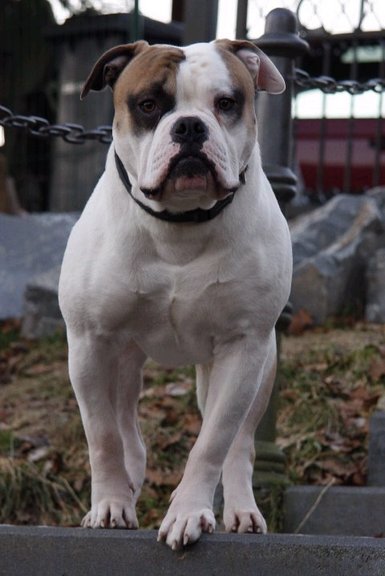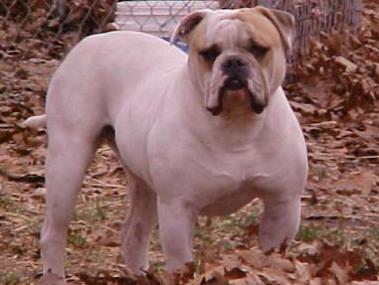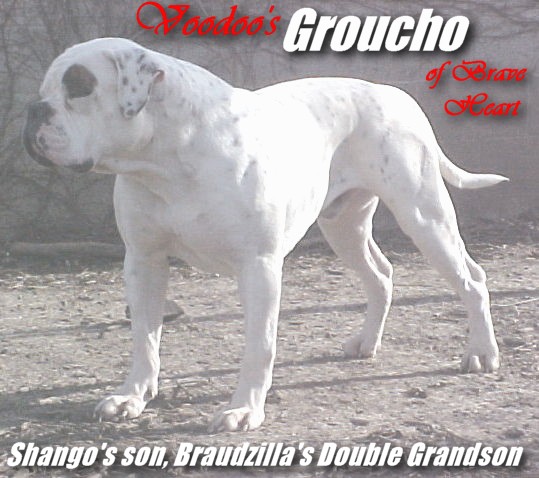 American Bulldogs Puppies for sale

John D Johnson American Bulldogs

Olde Bulldogger, American Bully

Razors Edge, Gottiline

King pin Cali  Shorty Bull

American Bulldog, Hog Dog, Catch dog

Alan Scott,  Johnson, MGK,

Mufassa, Dozer ,Tyson,  Dailey American Bulldogs

ManStopper American Bulldogs, Mega bulls Americasn Bulldogs

King Caleba

COLD COUNTRY

vENN kENNELS

mEGA bULLS, nANSTOPPERS

kING mUFASSA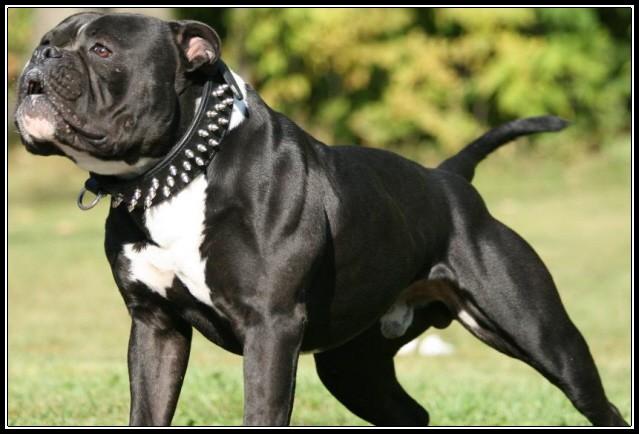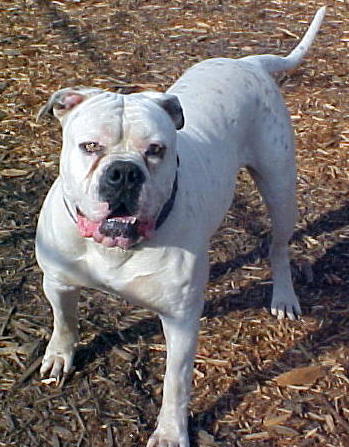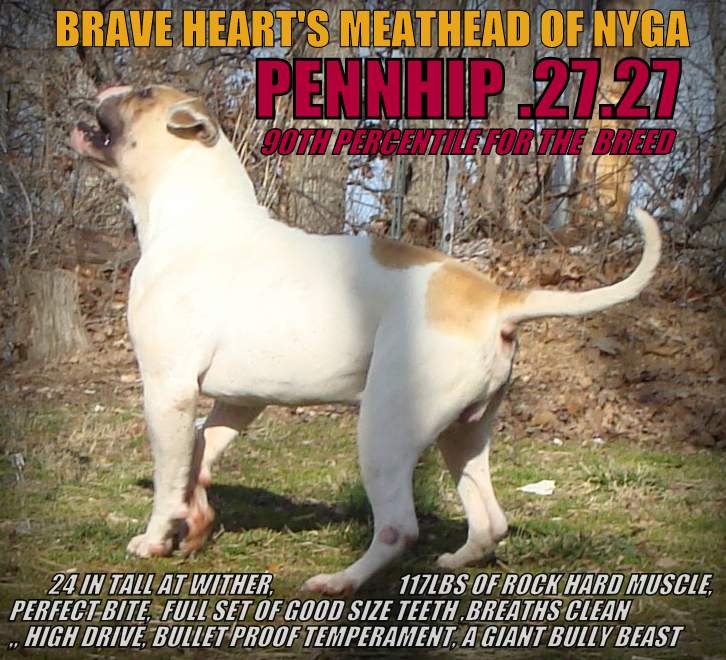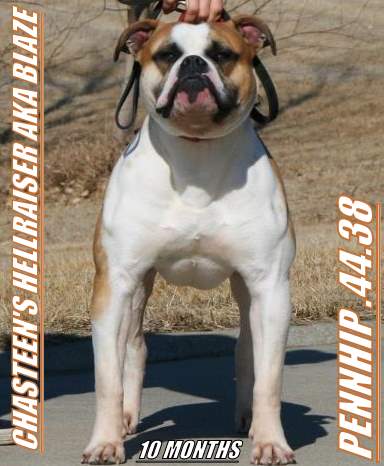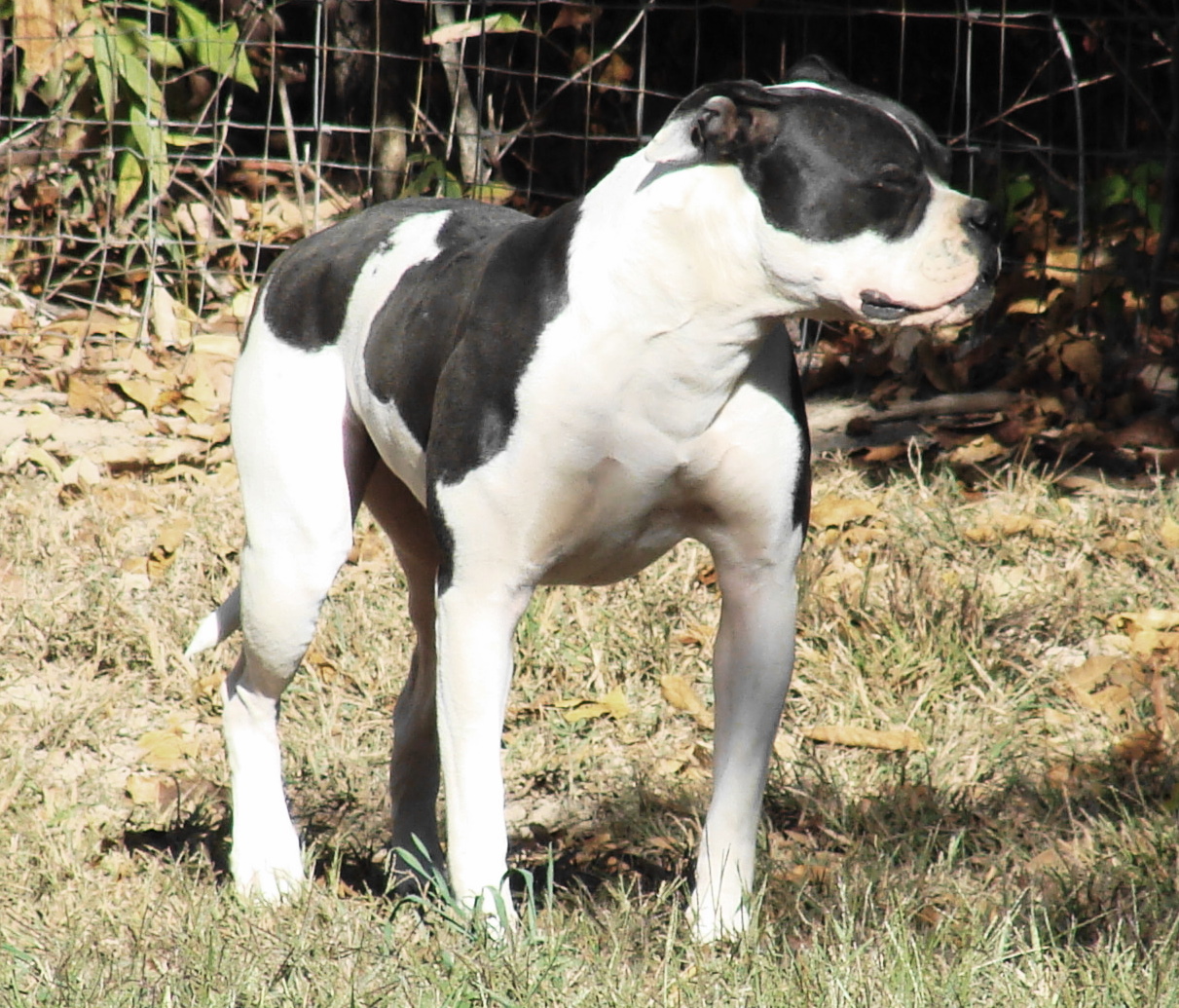 BRAVE HEART's   REIGN of TERROR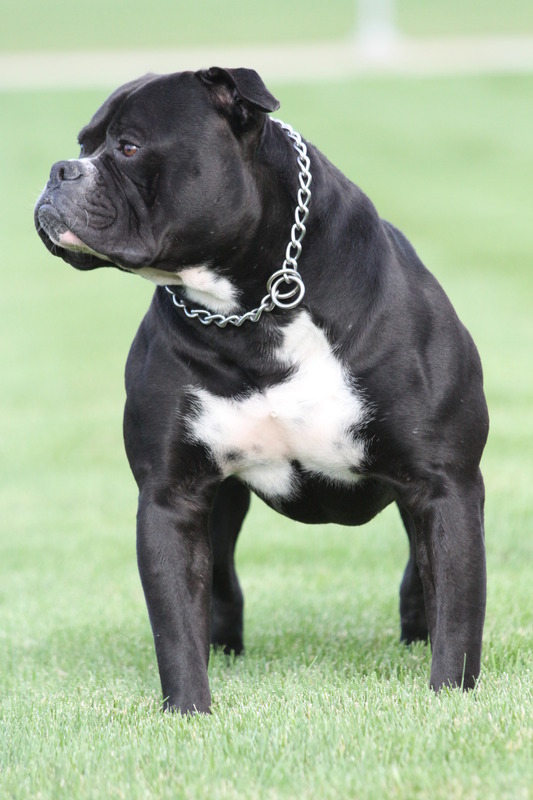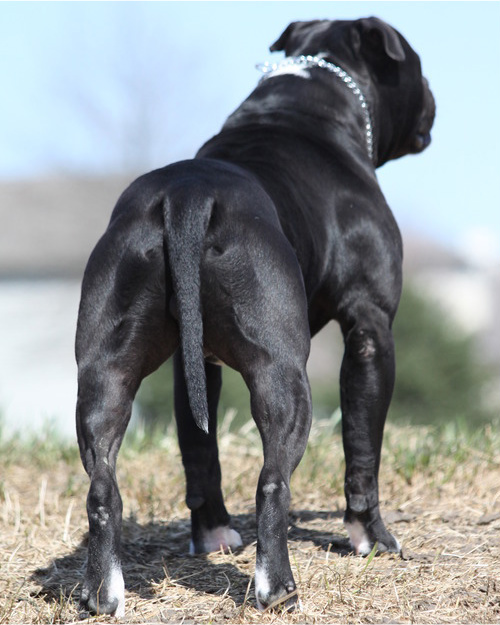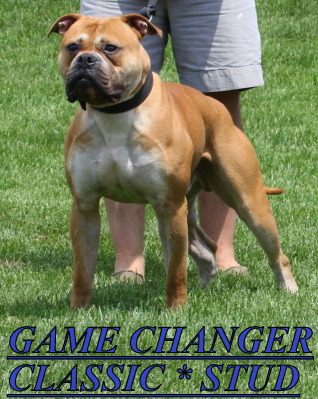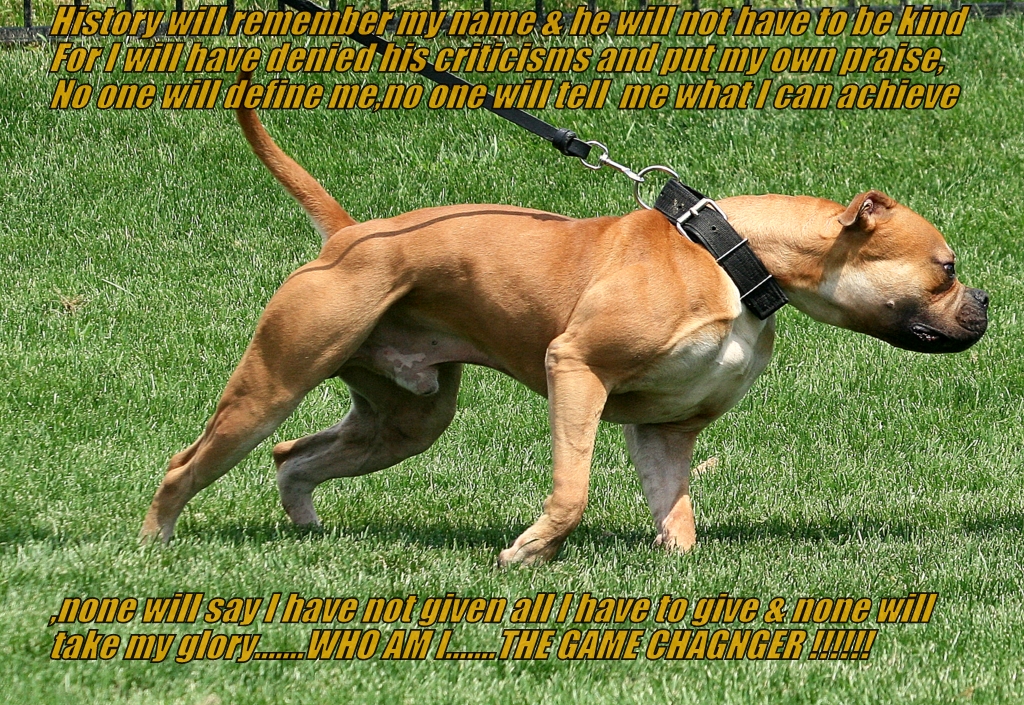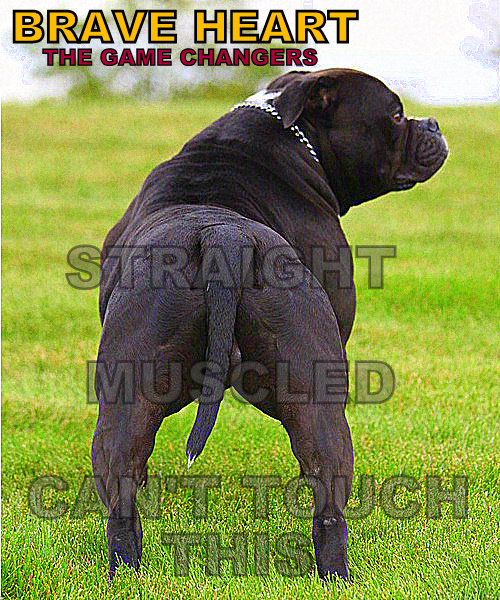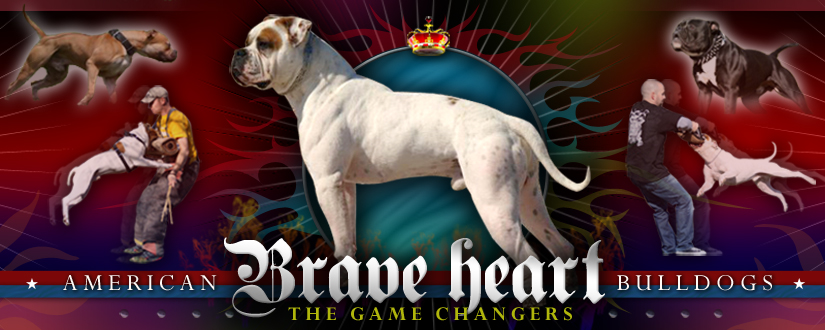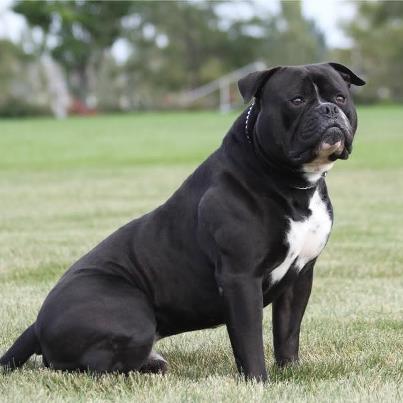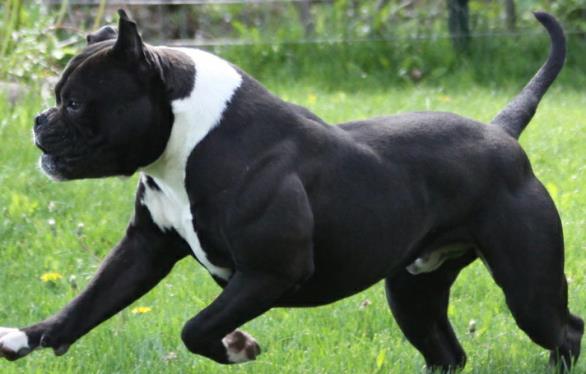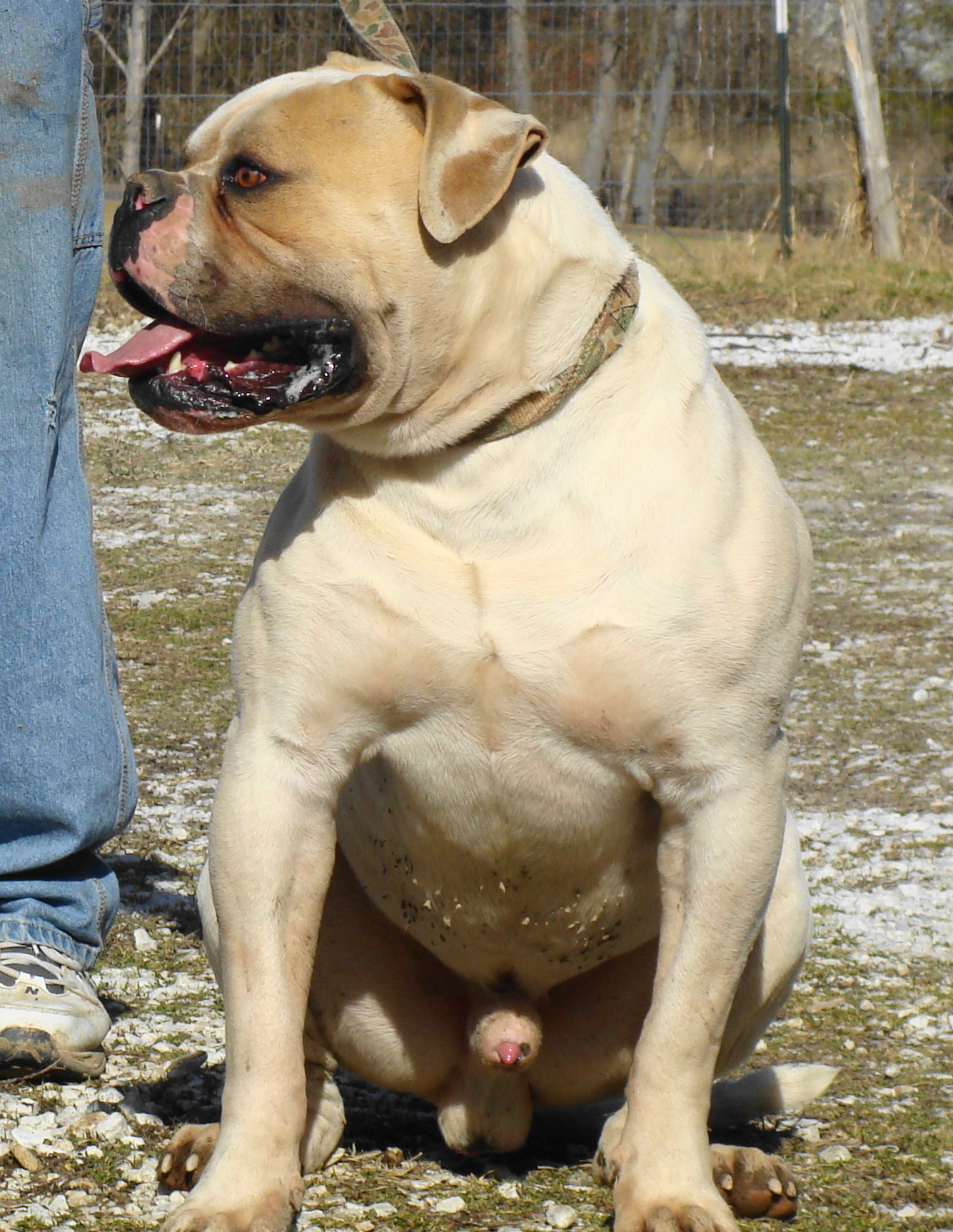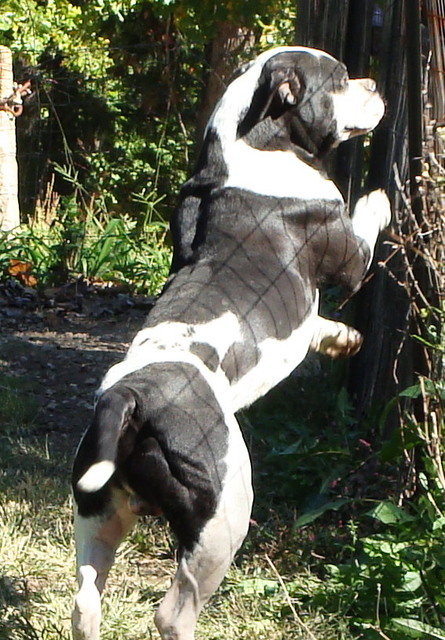 Gaucho PH.36.36

son of HugGY 

100% Brave Heart Bloodline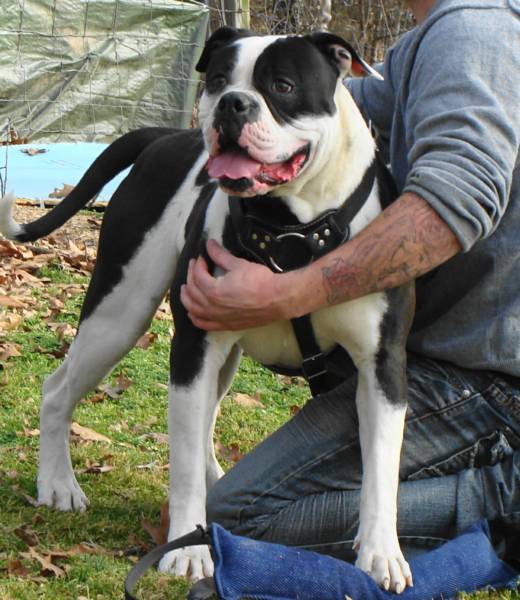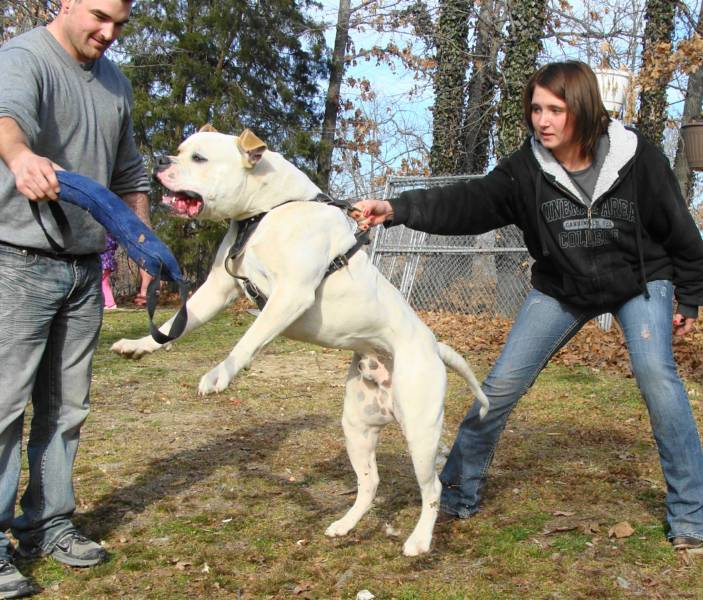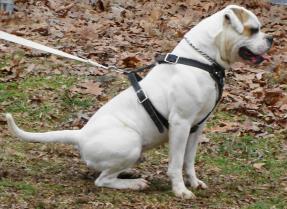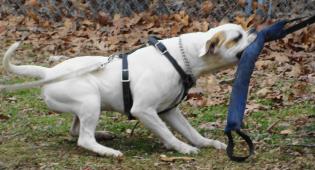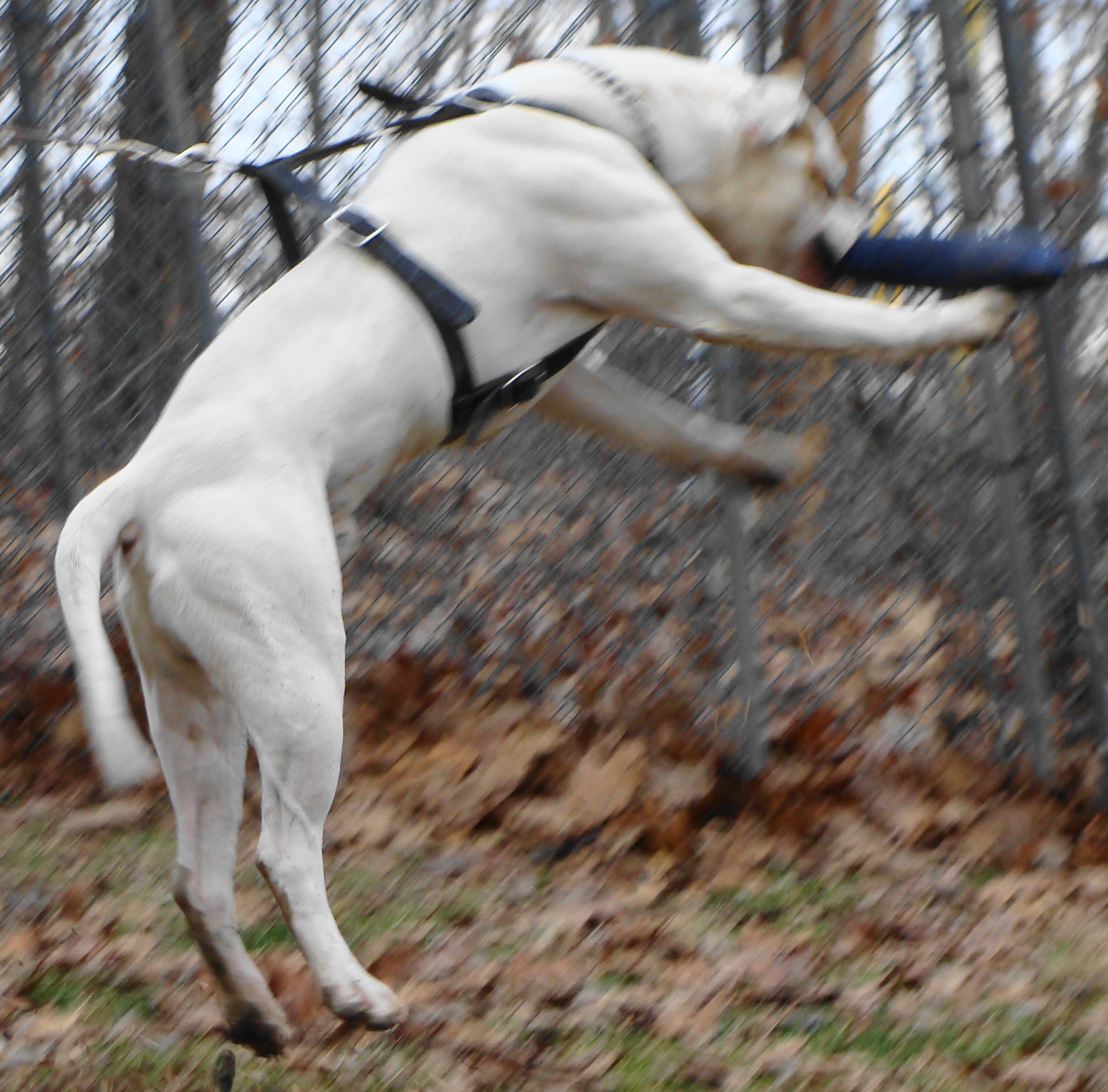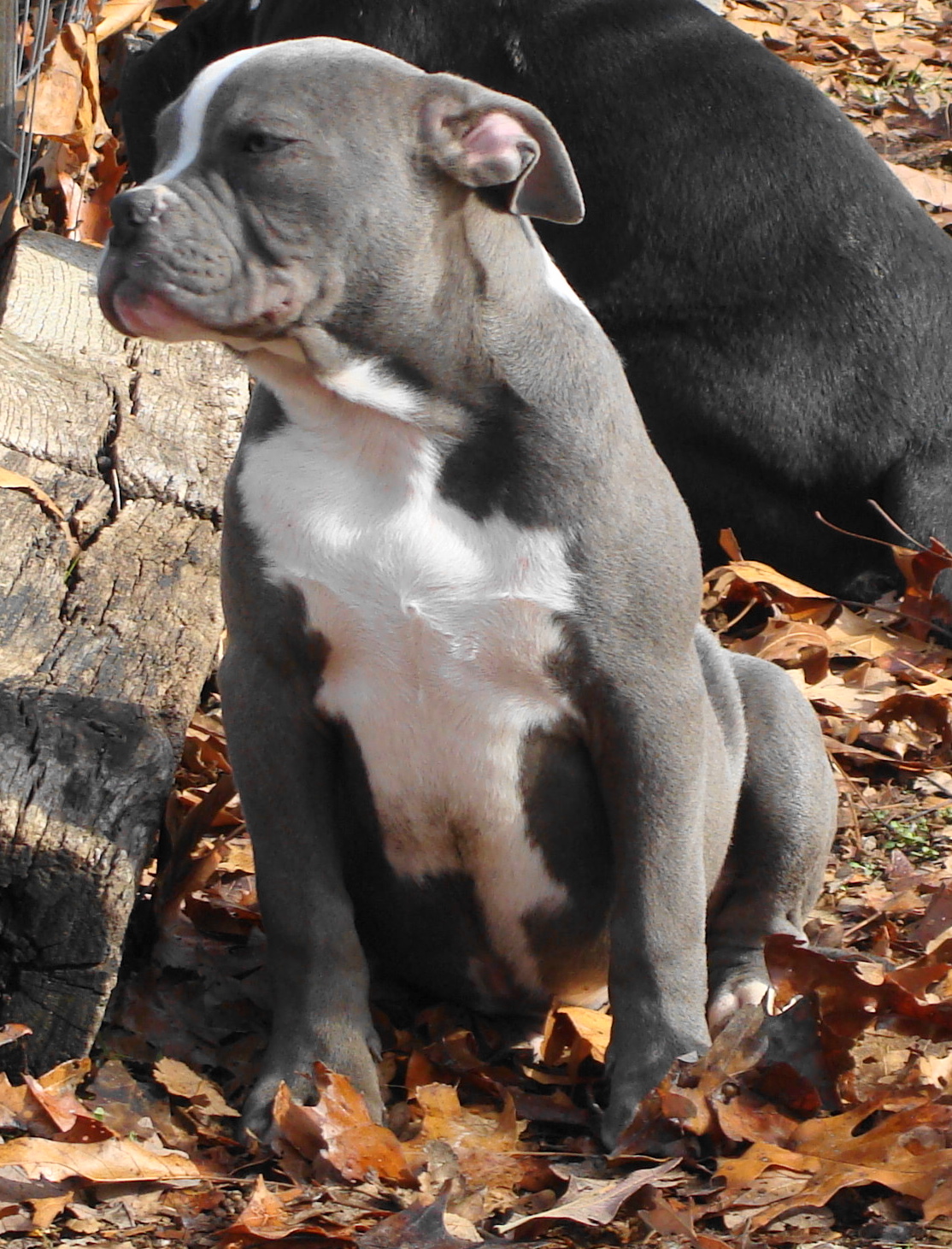 Silver Bullet          of

Brave Heart

aka Stunner

  Picasso

       X

  Tazue

Our 1st            Black

dilution pup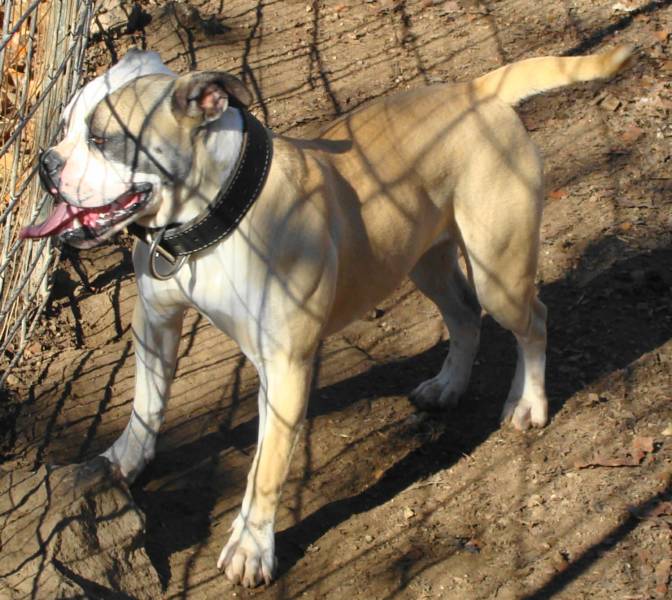 CVito A Alu honest,lick her trustworthy, great , been a top breeder 20 years, brave heart is the top producing kennel of all timee to add text.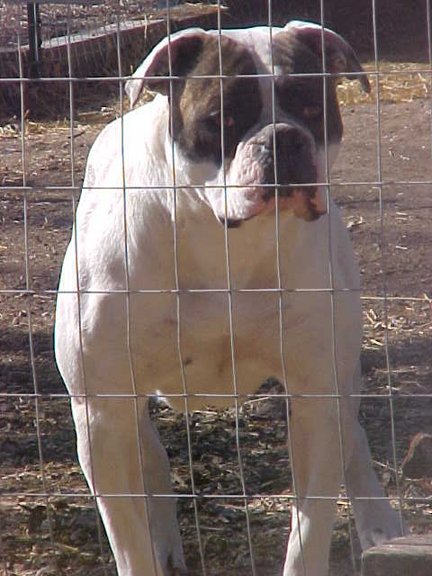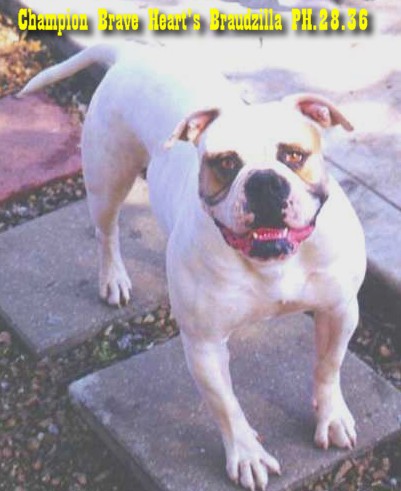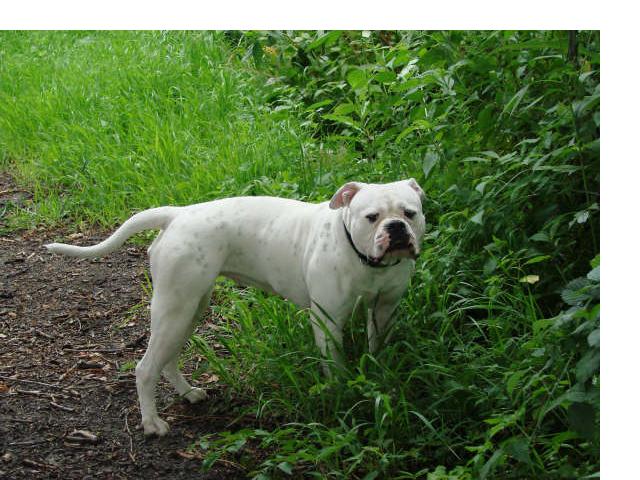 B H's Bullistic Overload PH.42.42 aka Jaqc the Body

Jaqc has long been Retired from the breeding program directly he is to old now, But his blood and offspring is impacting the breedings today. Jaqc is my heart I love this dog like no other, his Drive and Temperament are off the charts. His Muscle is incredible, he has influenced many of my dogs today he production is such that I started a side project a few years back called the Jaqcology Project.....crunching his genes with various Performance Blood and the best my bloodline has produced, Today through his son Joe, and Daughter Supra, Grandson Puma, and a few other progeny that are linebred on Jaqc....The project  is just that a project governed completely off performance , temperament, and working ability....as of 2014 I have  one progeny chunched very tightly on Jaqc , he is in her pedigree three times in the first three generations, I've out crossed him directly to standard hybred blood and just out crossed his son Joe to line bred Boss Hog a female off Eric Rowe's bloodline . This offshoot project is to isolate Jaqc's genetic superior Temperament and Bulldog essence, while refining and improving on his few short comings.  In hopes of using progeny back to improve our  mainstream bloodline. Pups from this Project are not forsale to Breeders, just Pet and Working homes

HUGGY of BRAVE HEART

                          PH.42.48

       Gr Ch BMJ x Monella

HUGGY of BRAVE HEART

                          PH.42.48

       Gr Ch BMJ x Monella

Dual GRAND Champion Bull Metal Jacket of Brave Heart.

Cal 1. Iron Dog 3 Titled (RANKED) GDT, Multi Hardest Hitting Wins, 12 BIS, This dog has Changed the GAME he has raised the bar in Structure, Movement, Muscle, Tight Skin, Athletic Builds, Clean more functional Bully Type. He has only been bred 6 times and his production has out striped his own greatness, which is the measure of a great stud,  His progeny have alsoleft their mark on this breed, Huggy, Butters, Gracie, Reign, Quazzar, Gaucho, Janga, Picasso,Puma, Klyde, Ms B ,Meathead, and many more have reeped the benifits of his power as a stud. Today he is stacke Multible times in out production to insure his qwuality......and the greatest quality he throws you can not see in a picture, his amazing temperament , drive and bulldoggedness.

BMJ is a Cocky, Proud, Alpha, "Its his World and your just living in it " he has been tested and never took a step back....he is long retired from breeding but todasy we are chunching and improving on his greatness

Reign is the Queen of my yard...She is BMJ's Daughter, Huggy's Sister

and the best producing female I've had in 18yrs of breeding American Bulldogs. Every litter she produces super stars, with the quality of her Father only Bigger and Heavier Bone,  Her Son Picasso has done us a world of Good, and her son Whopper is flat out freaking me out with his development.  She isn't as impressive looking as some of her Siblings, but none of them can touch her production

Butters has turned out to play a large roll in my breeding program, through his son Meathead. Butters has always been a physically stunning brute at nearly 25in 115lbs of ripped tight muscle not sure there has ever been a better looking AB. his grandson Klyde is shaping up to be a black clone of him and most of my line up is his progeny. Ms Butters his granddaughter is the best female or male  I think I've ever produced all around looks and performance she is flat out incredible. Butters genes have given me the leg and size I've needed the last few years, it has helped in performance more than I'd of imagined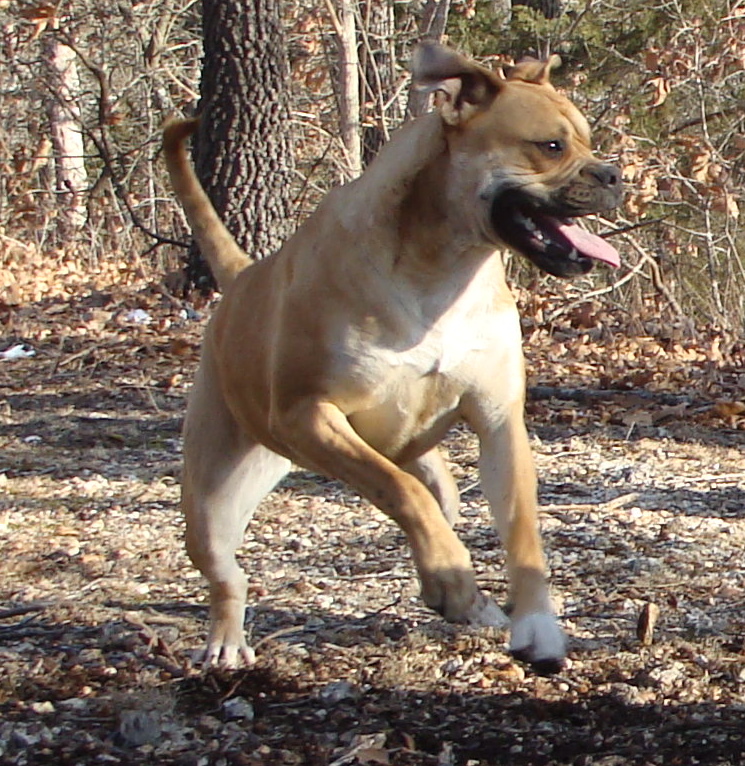 Below are dogs we have produced starting back in 1995, many of them used in our Bloodline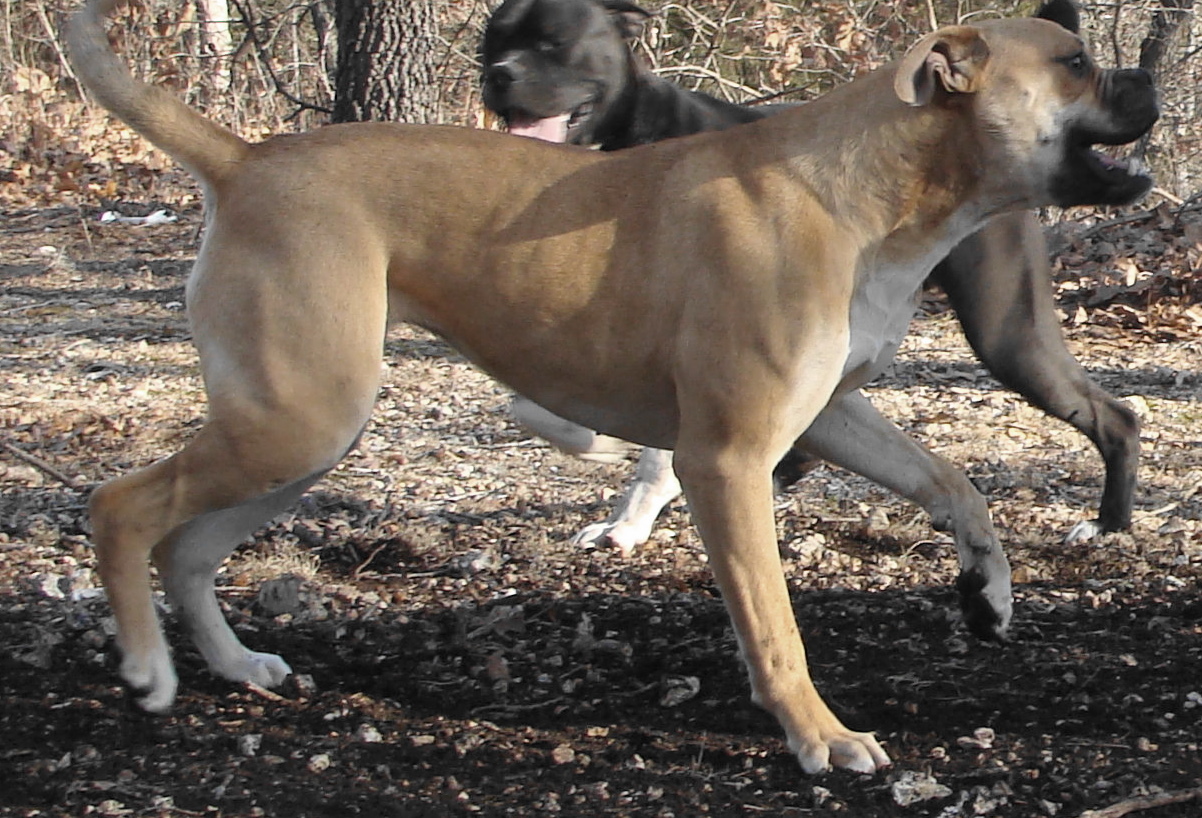 This is Our Girl Brave Heart's I Can Believe Shez Not Butters aka Ms B, dispite being a color I like the least in the world she is to date quite possible the best AB I've ever produced, in just about every way. To me she is a break through...in these pictures she is not even a year old. Her Structure, Movement , Teeth, Size, 24in 89lbs and growing, Drive, Stamina, Breathing, endurance, natural gripping and holding ability, I can't say enough about her...Watching her tare around the woods in incredible her movement is like a  Big Cat crossed with a deer...nothing frazzels her she is a positive force in the universe, always happy and loving....She is Butters Grandduaghter from a tight line breeding to Huggy's sister Frida...... I have high hopes that she is a great producer some day that would be a dream come true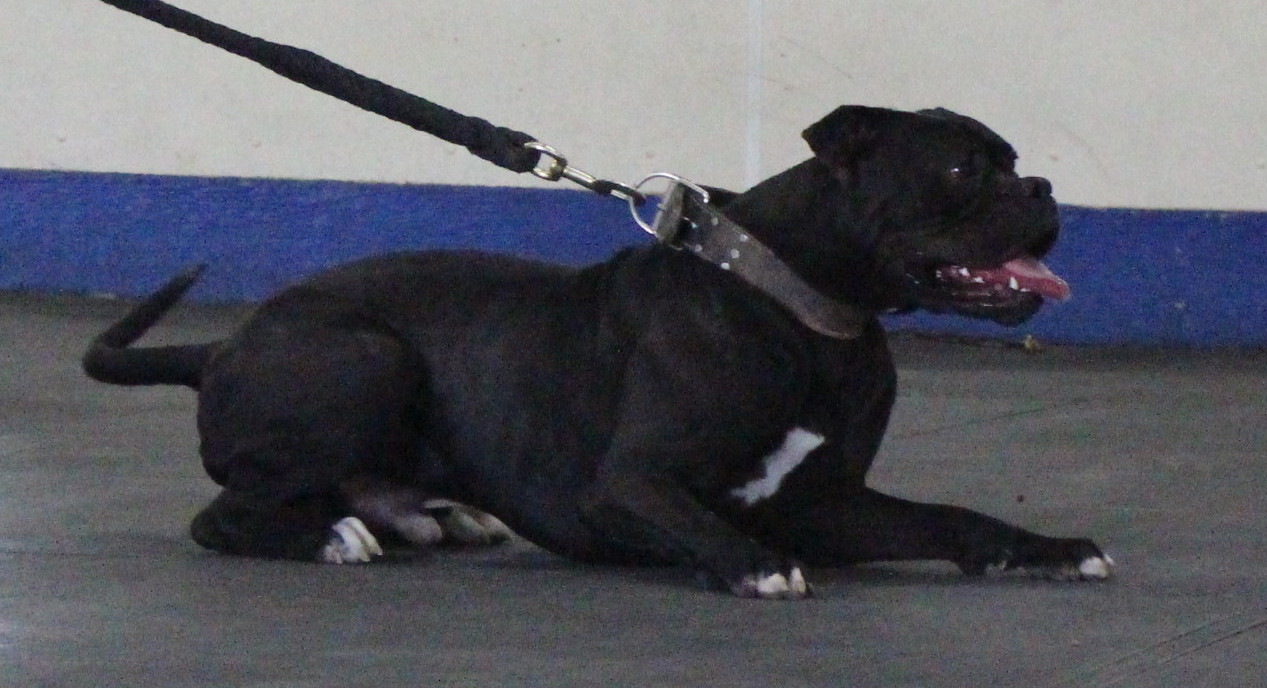 Brave Heart's Bullragious PH.40.49 aka Klyde pictured at 11 mo old pup,  Meathead x Janga

that makes him Butters and Gaucho's Granson, Huggy, Gracie, Bo's Gr Granson and deeply line bred BMJ....he is the Black Butters and is a great dog with insane prey drive, great temperment and runs and jumps like a super athlete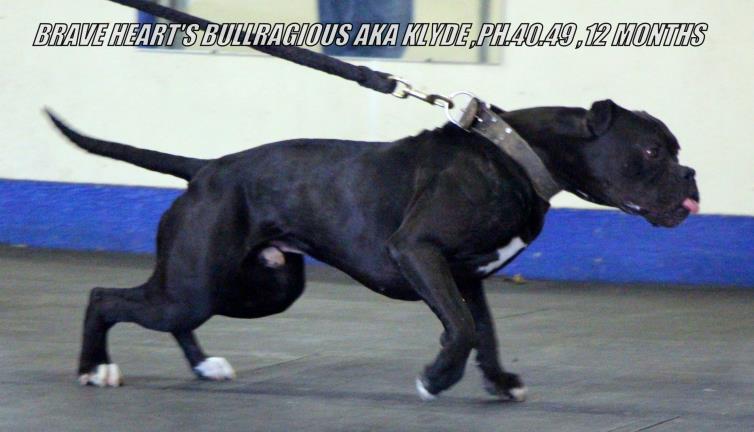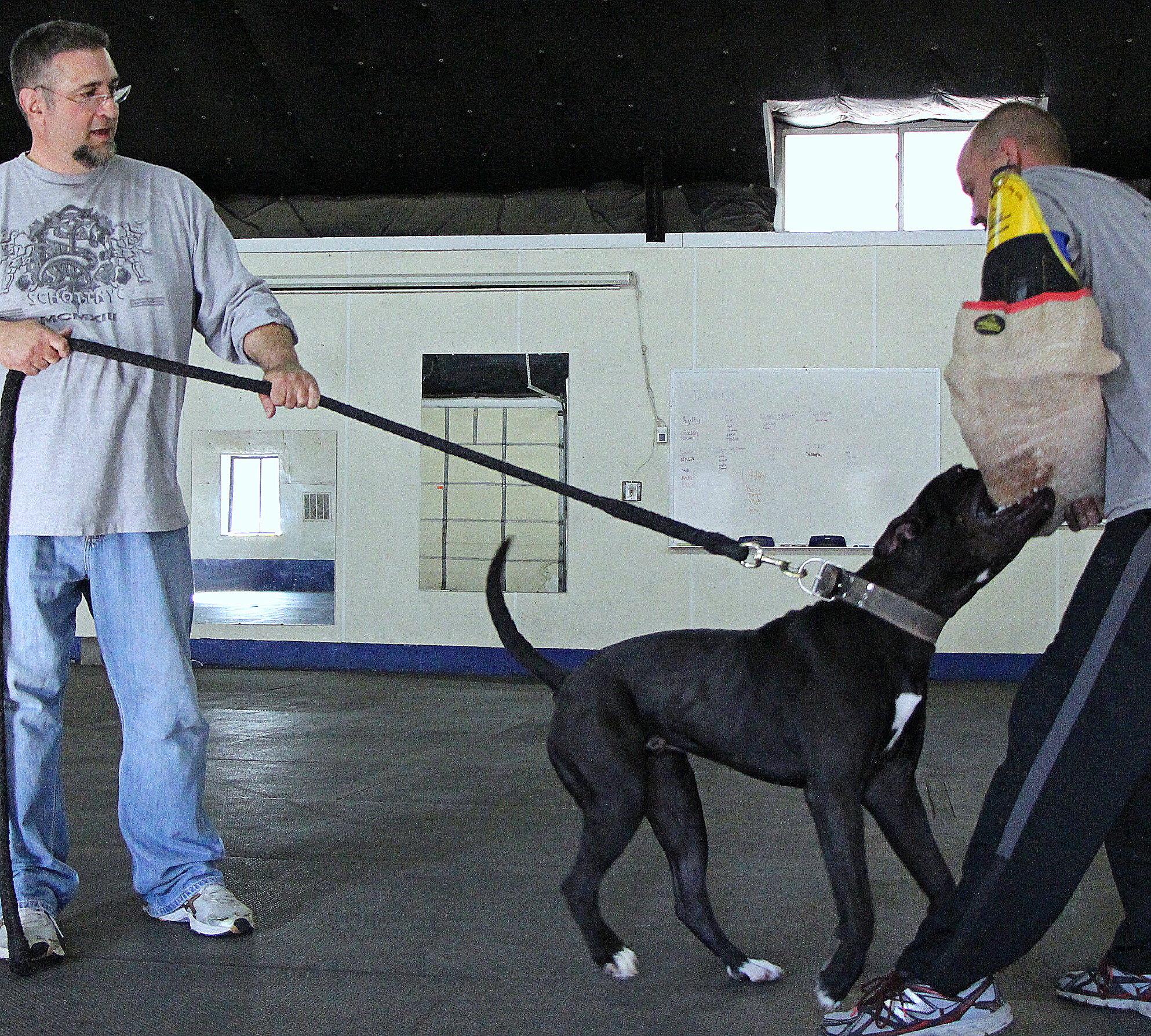 TRUE NON BRINDLE BLUE    Tuggit's Megatron aka Mick PH.32.32 100% Brave Heart, Picasso Son from Ch Tuggit's Shugg  Joe's littermate.....this guy is still young but we have some plans for him .

   * He is open for Stud 1800$ to approved females *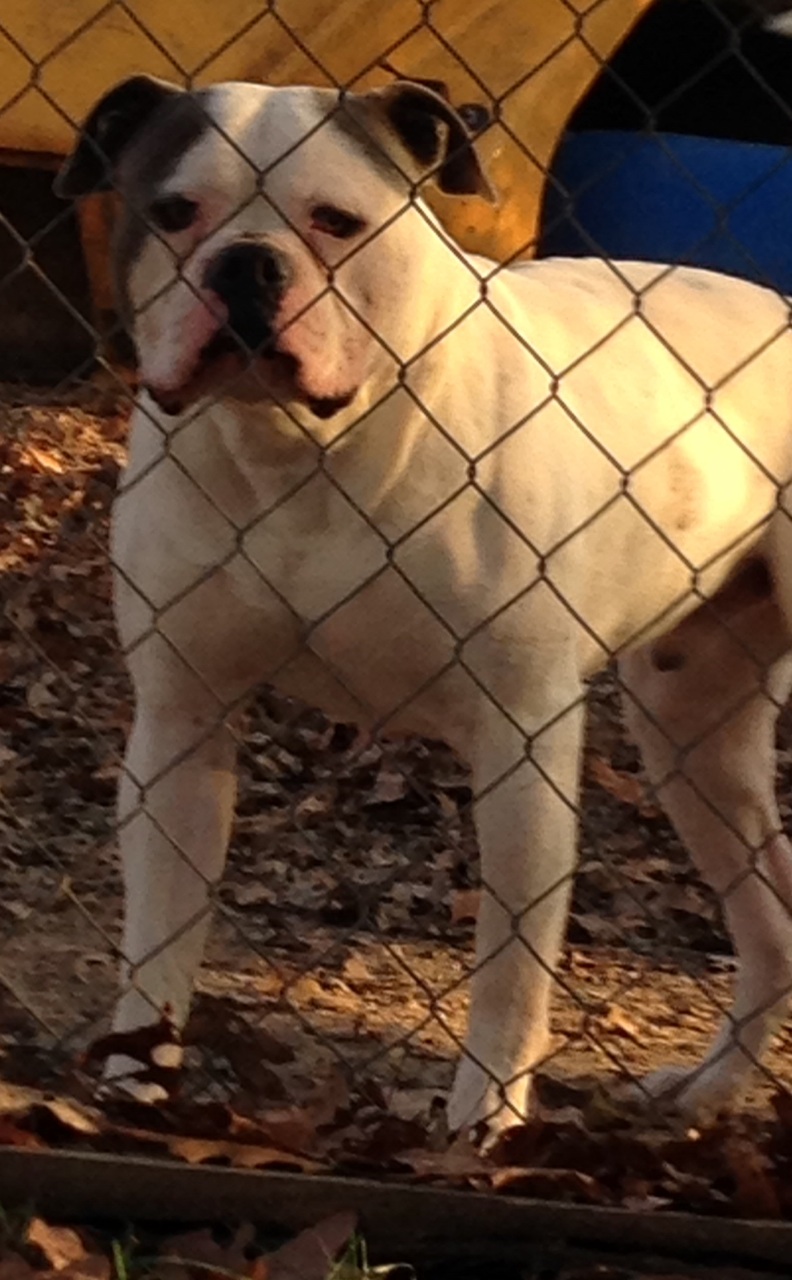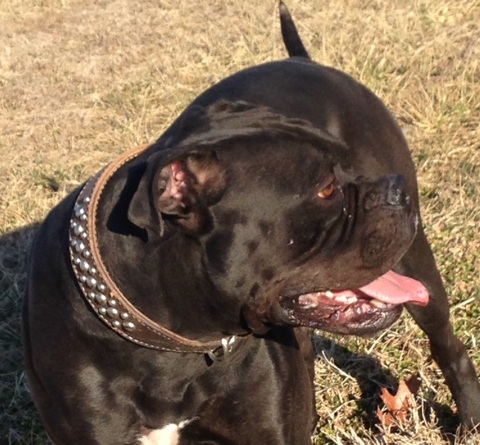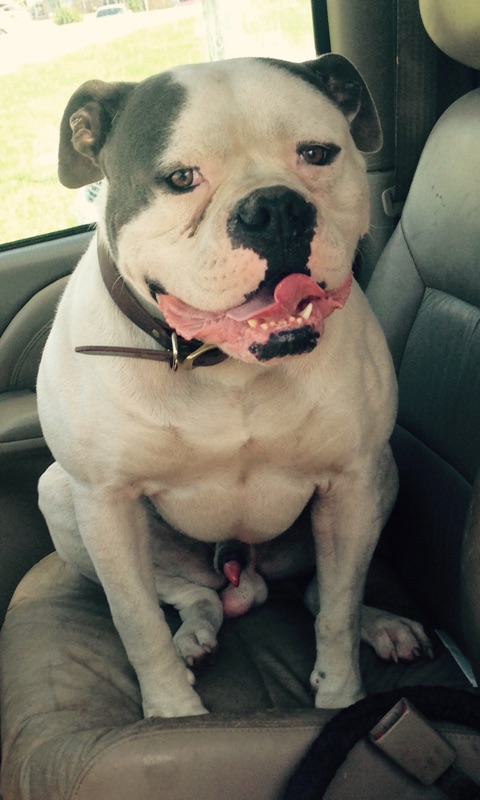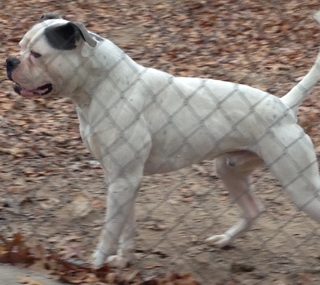 . He is a BH Jaqc grandson, Gr CH BMJ gr grandson, heavy  BH Blue Bullistic .... 23.5in , 96lb of lean, cut muscle, True Blue and White, Excellent Temperament, Drive and just a good boy all around. Mick is producing some very nice American Bulldogs, Pictures do this boy no justice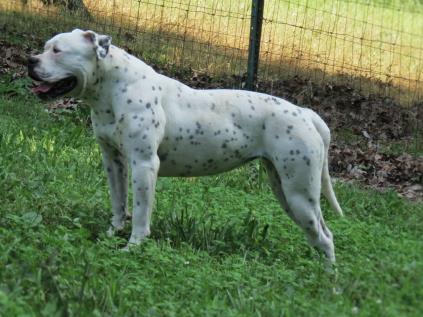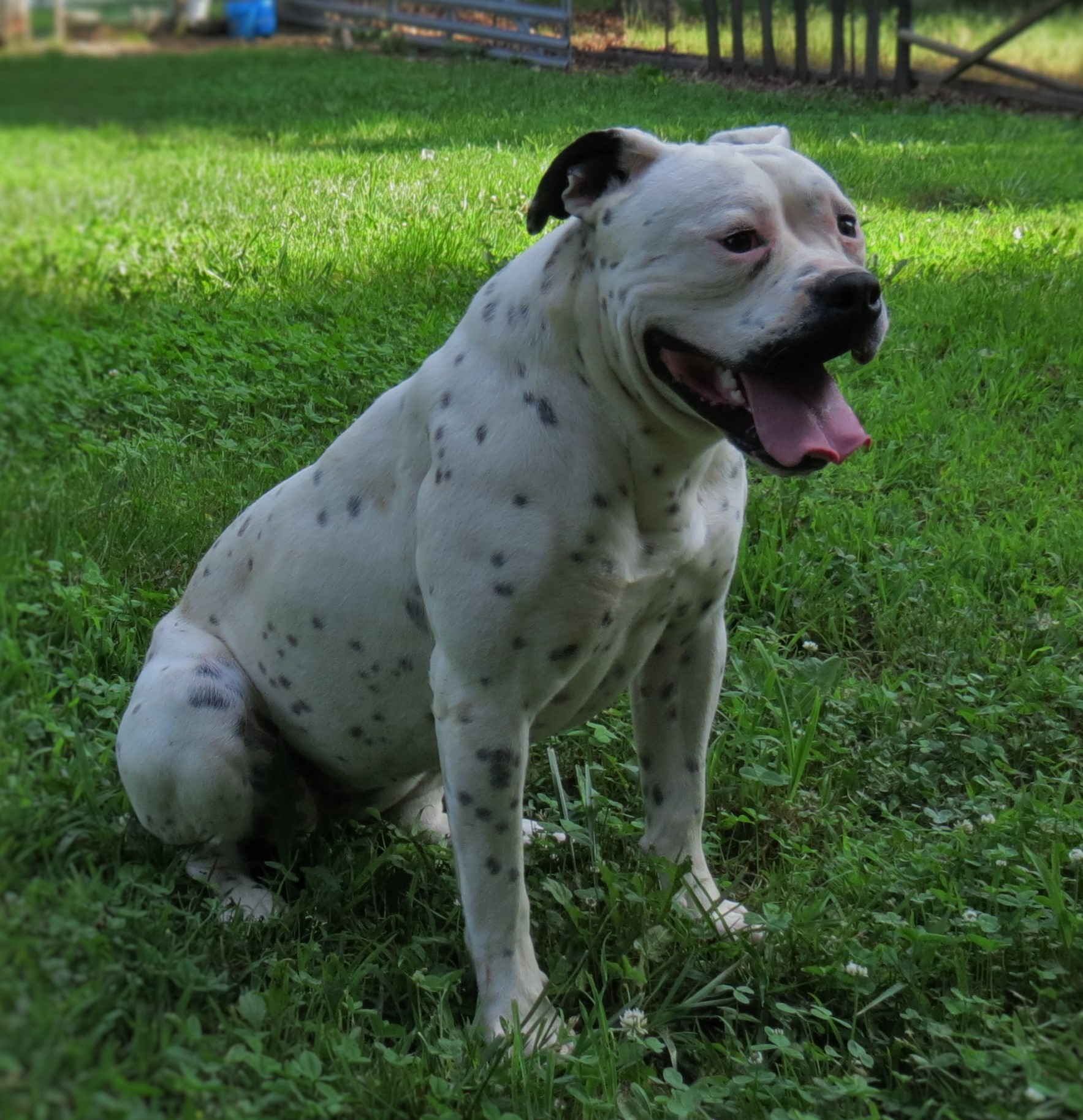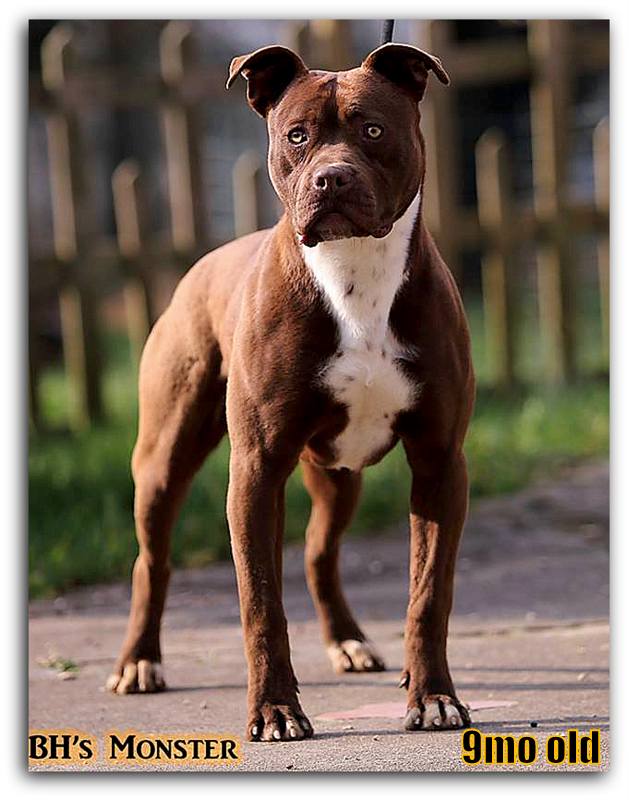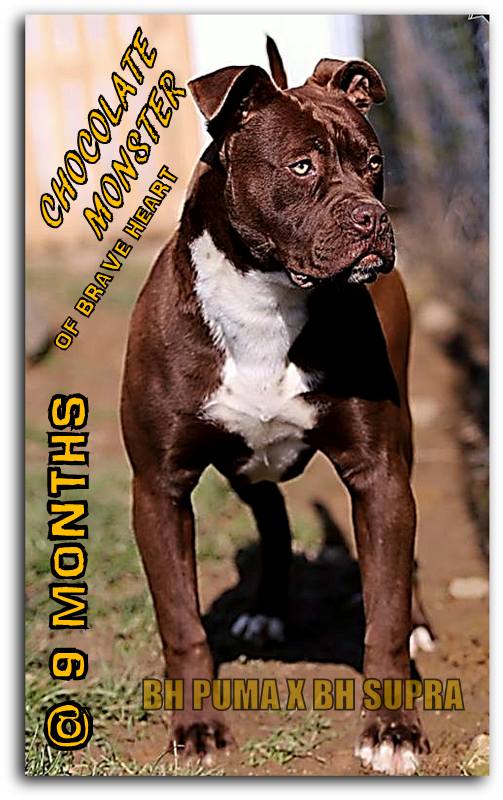 ^Littermates brother and sister ^